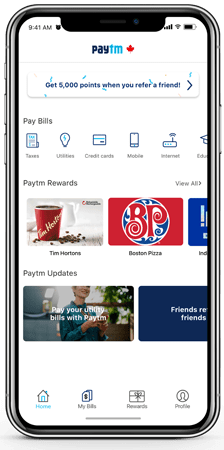 Pre-pay your next utility bill and earn rewards!

No app, no problem. Pre-pay online available.
Paytm Canada Pre-Payment Program

Alberta Utility Source is proud to partner with Paytm Canada. You can pre-pay your next month's invoice using Visa or Mastercard, and earn rewards points at the same time.
Getting started with Paytm Canada is simple. Just follow these few steps, and start collecting points!
---
Download the Paytm Canada app on your phone.


Add your Visa or Mastercard as a payment method on your account.


Figure out the best day to make your pre-payment by checking when your last billing notification email was received. Make your pre-payment for the next month at least 10 business days before this date.
Example: if your billing notification was received November 15, set your pre-payment to be sent no later than December 3.
Again, referencing your last billing notification email, use the amount owing as an estimate to what your pre-payment amount should be for your next bill.
Search for Alberta Utility Source within Utilities.
Enter your account number (also found on your billing notification email) and the amount you want to pre-pay on your next bill.
Choose the date you would like your pre-payment submitted or "Set it and Forget it" by scheduling recurring pre-payments.
Review your details and pay.
Don't want to download the app or sign up for a Paytm account but still want to pre-pay your Alberta Utility Source account using your credit card? No problem, pay securely online using VISA or Mastercard by clicking here. (maximum transaction amount accepted is $9,999.99)
GET REWARDS FROM BRANDS YOU ALREADY LOVE
Frequently Asked Questions
---
Start earning rewards today!